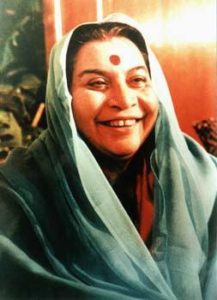 Shri Mataji, a Renowned Spiritual Guru & Founder of Sahaja Yoga
Sahaja Yoga was founded by Shri Mataji Nirmala Devi, a renowned spiritual guru, hailing from India (March 21, 1923 – Feb 23, 2011).  Her parents were actively involved in the struggle for Indian independence, and she would later join the battle herself as a young woman. She frequently stayed with Mahatma Gandhi in his ashram, consulting with him on spiritual matters. Shri Mataji would go on to study medicine at the Christian Medical College in Ludhiana and the Balakram Medical College in Lahore.
The unique and profound spiritual achievement of Sahaja Yoga could only be made possible through a technique that allows humans to connect to the universal collective consciousness. Shri Mataji first accomplished this feat in 1970 on a beach near Mumbai, realizing the special gift she had and in those moments, established the very purpose of her life.
Shri Mataji made this spiritual connection accessible to all human beings. Having achieved this breakthrough, she then developed the technique through which anyone's Kundalini energy could be raised, spontaneously and with little effort, through a sequence of simple steps with no prerequisites, "tests," or previous experience required. Millions of people have learned how to awaken and benefit from their inner spiritual power through Sahaja Meditation. Meditation centers have been established in more than ninety-five countries, where volunteers teach her techniques free of charge.