Sahaja Yoga is a method of achieving a unique state of meditation through the connection of our innate spiritual energy (Kundalini) to the all-pervading divine energy of the universe. This state, known as thoughtless awareness, makes us peaceful, balanced and integrated while improving our wellness and relationships over time. One can actually feel the all pervading divine power as a cool breeze, as described in all religions and spiritual traditions of the world. This is the actualization of such transformation, which is taking place now, worldwide, and has been proved and experienced by hundreds of thousands in over 90 countries. It is entirely free of charge, as one cannot pay for the experience of being connected to the divine love that created us all.
Upcoming event:
Learn to Meditate: August 6th, Portland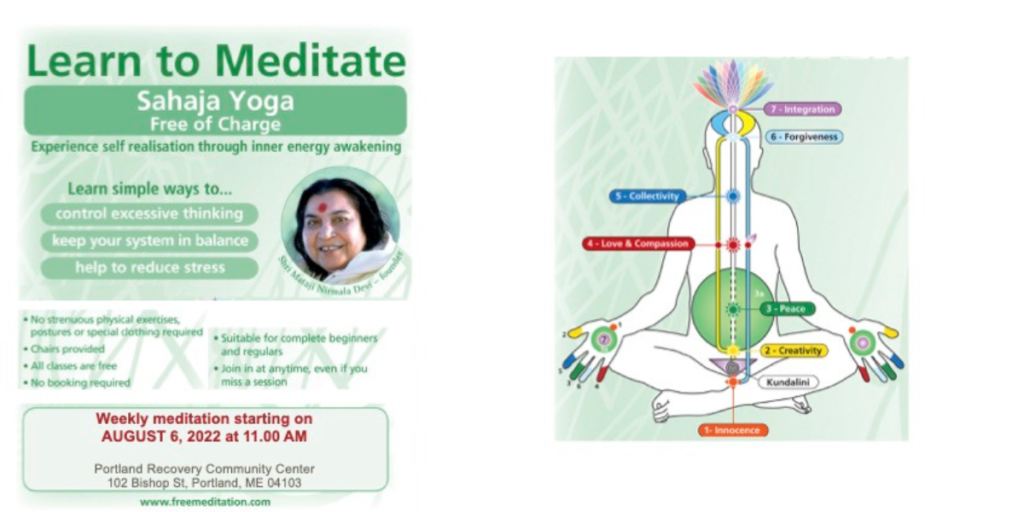 AUGUST 6, 2022 at 11.00 AM
102 Bishop St, Portland, ME 04103
There will be a follow up program, details to be announced.
Learn simple ways to control excessive thinking, keep your system in balance and reduce stress.
Experience self realization through inner energy awakening.
No strenuous physical exercises, postures or special clothing.
Chairs provided.
All classes are free.
Suitable for complete beginners and regulars.
Join in at any time, even if you miss a session.